B-1 Photos and Notes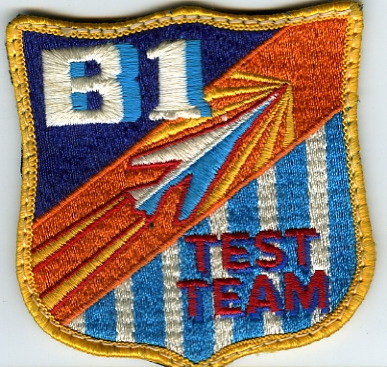 Patch Trivia
B-1 Lancer, LRCA, next generation bomber
I spent the late 70's/early '80s on the B-1 Flight Test team at Edwards Air Force Base in California, from some months before the B-1 program was re-activated by Regan to a few months after delivery of the first production B-1B to the Strategic Air Command.
I realized that I have some interesting B-1 photographs that might be of interest to aircraft buffs or historians, so I decided to finally scan them and put them up on the web.
The B-1 is an excellent aircraft, and one of the prettiest airplanes to see in the air. And the team of AFSC and SAC Air Force folks, as well as the folks from Rockwell, Eaton/AIL, Boeing, GE, and so on were great, some of the most dedicated, creative, and fun people I've ever worked with.
Specific models specified if I remember which they were
Some comments included below each photograph. I might add more details about that time it the future, depends on the feedback I get from you. email B1@ravenware.com
B1 Q&A. Someone emailed me some questions, here are the answers.
Farnburough Air Show, 1982 Pictures and factbook
B-1A ship 2 Various pictures
B1 Promo Leaflet A pre-B model propoganda sheet on why the B-1 is so good.
B-1B Ship 2 delivery, Offut AFB Nebraska
B-1 Flight test groundcrew pics
B-1B Rockwell rollout brouchure, September 4th, 1984
B-1B in Eglin Environmental Hanager
Ooopsie II! A gear-up landing recovery, donated by anonymous.
Ooopsie III! A brake failure leads to a fire, here's the result.
Disclaimer! Many incidents here happened more than 25 years ago. I have an excellent memory, but I certainly may make mistakes in order of events, people involved, and factual errors. Second, I was involved primarily with hydraulic and flight control issues, though I had a great deal to to with general flight and groound ops, so my memory bias is towards those systems and towards flying this thing week to week. I don't have much insight into the avionics or weapons systems, and more particularly I don't know which of those are still classified, so I won't talk about them. I also didn't become a pilot myself until years after these memories, so I may not rememeber the aircrew details completely. And some people I liked, some people I thought were jerks.
But heck with that. Hopefully I can share some of the fun, excitement, sweat, pride, and pain-in-the-ass moments of bringing a new airplane into the world!
Notes on submissions: If you have a really rare or interesting shot, feel free to email it, I might include it. Please do not send take offs and landings, neat air-to-air shots, no matter how good. There are great places for those pics, but I want to focus here on rare things, things that are out of the ordinary.
There were two patches worn by B-1 team members. The bright one, at the top of the page, and the camoflaged one, pictured below. Note the threads hanging off this one, I pulled it off one of my old uniform shirts to scan.
We wore these patches on the left upper side of our uniforms, above the USAF tape. And this always got us in trouble. Our command, AFSC (Air Force Systems Command) was a business, we were in the business of producing and testing the best military aircraft in the world. But the rest of the Air Force was, like, all military and stuff and worried about uniforms. AFR 35-10 (apperance and uniform regs) specifically forbids any patches above the USAF tape, that space is only for badging (Missile, Maintence Tech, etc.). So every time we went TDY anywhere (particularly to SAC bases) we were given garbage by uniform sticklers who wanted us to rip our B-1 patches off. Fat chance, buddy. We have jobs we're proud of, and are going to give you a great airplane (which you will screw up, we know) and we'll dress any damned way we feel like.
I will admit to our uniforms looking very clutttered, though. When I left the service, the front of my fatigue shirts had...
Upper right: AFSC Master Technician
Lower Right: AFSC patch
Upper left: B1 patch
Lower upper left: Senior maint tech badge
Lower right: Edwards AFB patch